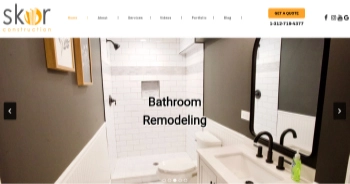 Website Design Client: Skor Construction, IL
Location: Mount Prospect, IL
This contractor found AdverGroup while searching Google for a local website designer. Within our initial conversation this contractor explained their current website was not cutting it in conquering search engine results pages. Therefore, they sought to target a handful of local cities and villages for their remodeling construction business. We explained to this client that Google will not consider your website for search result pages unless you have "web articles" that are actually titled whatever the searcher entered into the search engine".
This is where AdverGroup Web Design comes in, we helped this local contractor write search optimized content that was intelligently titled.
This SEO Optimized Contractor Website Design included:
Included recreation of a high resolution logo for this contractor.
AdverGroup developed a custom contractor website for this contractor located in Mount Prospect using the Joomla Content Management System.

SEO Optimized Content Creation for geographical landing pages targeted by this local Contractor.

SEO Optimized Contractor Portfolio.

Included

custom web design and custom graphic design for use on custom SEO Contractor website.
Included "animated upon scroll" of modules and content. This means modules and content can be animated upon entry and customized from various
Website included a full screen overlay slider on the home page for desktop users, and a still image slide show header for users on mobile devices.
Website included FREE Business cards to match this clients website.
Expedited Web Design Services resulted in this website being completed and launched within 5 days.
Contractor website design included configuration of Google Analytics and Google Webmaster Tools.
Contact AdverGroup today for assistance in achieving professional search optimized contractor website that will help your business conquer search engines. We provide professional search engine optimized contractor websites that are built with the intention to conquer search engines. We are considered among the best contractor website developers because we offer complete packages that include training that helps our contractor clients keep their website growing.