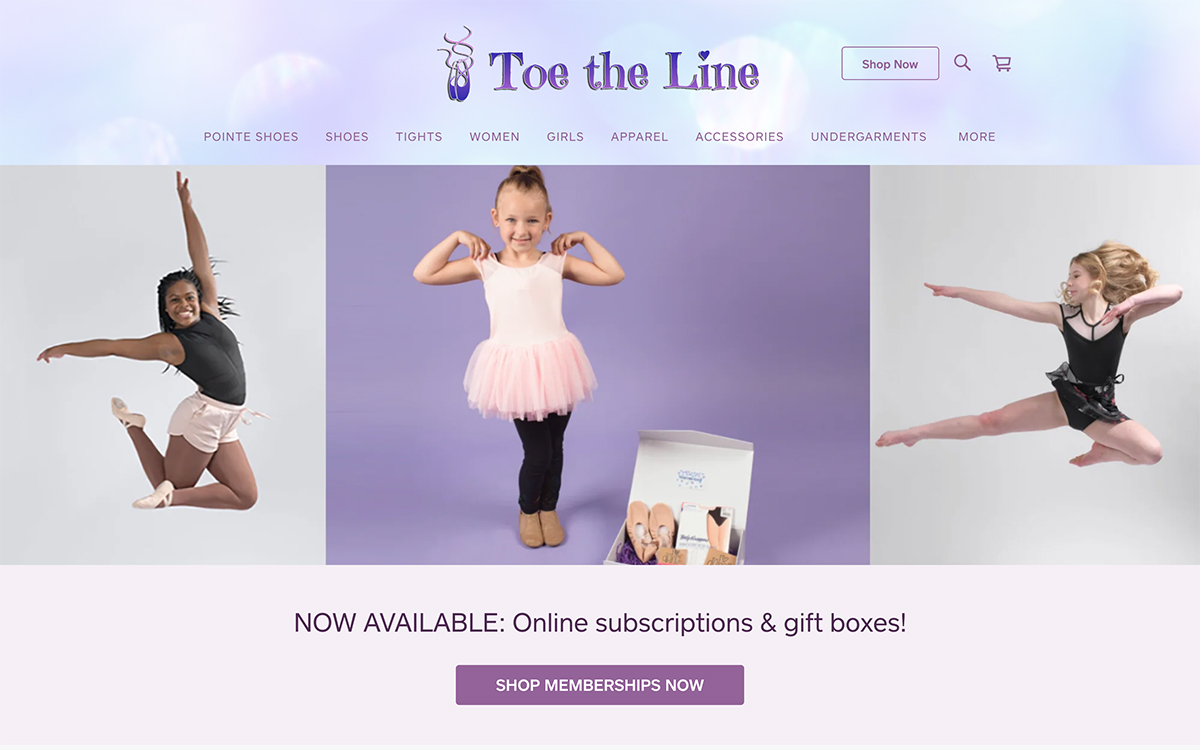 Website Design Client: "Toe the Line" Dance Apparel
Location: Buffalo Gove, IL
The owner of "Toe the Line" Ballet & Dance Apparel Store in Buffalo Grove sought a local web designer to assist them in updating and adding subscription products function ability to their already existing SquareUp eCommerce Website. Keeping their existing website was important to them because it was linked to their in store point of sale (POS) system which was Square POS has an online website platform which they have branded as Squareup.com. This is different and not be confused with SquareSpace.com
While Squareup.com would not be our number one option when selecting an eCommerce web platform, just like every project we are involved in, the platform we select for our client would be the platform most inline with achieving our clients objectives. In this projects case, the client sought an inexpensive and easy solution to offering subscriptions in their eCommerce store. Most important to them was not to upset the apple cart in regards to productivity in their store. Being that they really liked their Square POS, they really wanted to remain in SquareUp. For years this client was able to manage their website without needing a professional web designer. However, aside from not being able to implement the eCommerce subscription function, the store owner also thought this would be a good time to ensure the website was properly configured for Search Engine Optimization (SEO). This concern was found to be a valid, because all of the clients products and webpages were found to be poorly titled and missing meta descriptions all together.
This SquareUp eCommerce Web Design Project Included:
Included recreation of a high resolution logo for this local apparel store in Buffalo Grove.
AdverGroup implemented the Subscription Product Type offered by SquareUp for this client. The SquareUp and Square Online Subscription function allowed this client to sell bundled products at a monthly subscription product.

SEO Optimized Content Creation for eCommerce Products and webpages.

SEO Optimized Blog Content and Blog Configuration.

.

Included

custom web design for SquareUp template and custom graphic design for use on eCommerce website.
Website included a full screen overlay slider on the home page for desktop users, and a still image slide show header for users on mobile devices
Includes ongoing training relative to creating Subscription Product Types and Bundled items on the Square Website Platform known as Squareup. These custom training and video captures helped the client to learn how to update their website and create subscription product types and bundled products on the Square POS website Platform !
eCommerce website design included configuration of Google Analytics and Google Webmaster Tools.
Clients package included management and configuration of Google Ads.
Custom FAVICON or website icon which appears in the tabs of your web browser.
Contact AdverGroup today for assistance in achieving an eCommerce website built in the eCommere platform of your choice. We can help you develop an eCommerce website using SquareUp, SquareSpace, Shopify, Joomla, Wordpress, and more! eCommerce websites developed by AdverGroup will help your business make sales . We provide professional search engine eCommerce websites that are built with the intention to conquer search engines. We are considered among the best eCommerce website developers in the Chicago area because we offer complete packages that include training that helps our contractor clients keep their website growing.