Website Design Client: Escobar Painting Inc.
Location: Highland Park, IL
Website Design and Web Development for Escobar Painting Contractor in Highland Park included professional Video Commercial Production
This local painting contractor already had a website but was not happy with the current web design company. The owner of Escobar Painting just felt that their former web designer was just not familiar enough with the local service area they wished to conquer, and was simply not being productive. They were slow to post updates and they saw little benefit from the high monthly fees that they were paying for search engine optimization. The goal was to find a local web designer that could help them conquer local service areas and help them understand how to update their own website so that they could grow their websites project portfolio with the intent to conquer SEO.
Escobar Painting was introduced to AdverGroup through our partnership with the corporate offices of Sherwin Williams. Specifically their Chicago Region Resource Group. Due to AdverGroup involvement in Sherwin Williams' Resource Group's Event: Latina Fiesta 2022 we were able to meet and consult with various local painting contractors. The purpose of attending the event was help local Chicago area and suburban painters and painting companies understand the importance of a quality company website with proper search engine optimization (SEO).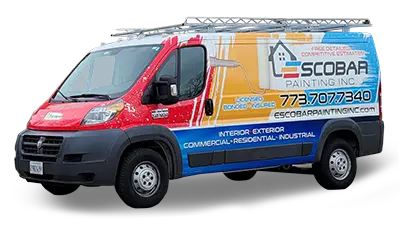 Contractor Website Design Functionality Provided for Local Painting Company in Highland Park
Custom Contractor Website Design / Re-Development.

The contractor already had a website but was not happy with the current website design company that they were using. That web design company never provided credentials to the admin control panel and never took the time to teach the client how to update their own website. This project included not only a new web design but also training on the

Joomla 4.0 Content Management System.
Creation of Custom Graphics to Support the New Web Design Template. This included the transparent van graphic which was cut out from a client provided photograph, and also included opaque background images to to be used in various places on the new sites new design.
Animation on Scroll (AOS) to allow animations of modules and website content in custom Joomla 4.0 web development and website design template.
Content Creation: Website included service page content creation that would help target local service areas near Glenview. Meaning that AdverGroup wrote all text content for this contractor website design project. We coded all webpage articles to include proper metadata for search engine optimization.
Search Engine Optimization (SEO): We coded all metadata on their homepage and webpages, we also produced Search Optimized Blog Content and SEO Blog Configuration plus SEO Optimized Content Creation for this painting contractor website design.
Custom SEO portfolio template to exhibit clients project portfolio. All while implementing a Search Optimized Strategy for intelligently formatting and titling content with the intent to conquer SEO. This section of the website allows the client to feature their past work, while also providing a vehicle to grow their website with intelligently titled articles.
Gallery Component Installation and Configuration. This gallery component will help the contractor exhibit their work using a cool Lightbox image gallery for Joomla 4.0
Custom Contact Form Creation. This contact form allows the clients to convey the details of their painting project to the painting contractor. The form was also configured to allow the user to submit photos of the room that they wanted painted.
Creation of custom website Favicon.
Included configuration of Google Analytics and Google Webmaster Tools.
Website project included pro video commercial production with professional voiceover talent.
We develop Painting Company and Contractor websites that help contractors grow their client base and prosper. Beyond being a local website design expert near Highland Park, we are also experts in Search Engine Optimization (SEO). We offer complete packages that include training on website design content management systems that help our contractor clients understand how to update their company websites. This will keep their website active and prominent on search engine result pages.
Contact AdverGroup today for assistance in achieving a professional painting contractor website design, similar to what we delivered for this local Highland Park based local painting contractor.