Website Design Client: Premium Hookah Store
Location: Des Plaines, IL
A young entrepreneur who was starting a new business sought a local eCommerce website designer near Des Plaines to assist him in developing his new website for "Premium Hookah Store". The plan is to open a brick and mortar store. However, he first wanted to begin sales online for his hookah pipes which are used to smoke tobacco products. After searching the internet for a local Shopify expert, he found AdverGroup. After reviewing our portfolio, he felt we had the experience. After meeting with us he felt we had a firm understanding of his needs and the true ability to deliver.
This new tobacco product website was a typical eCommerce Shopify website. However, there were a few small challenges that we conquered for this client. The challenge was not some crazy amount of products or some super new function ability. The challenge was that Shopify did not allow sales of tobacco, CBD, or Hemp products. Well, not exactly Shopify, but their financial partners or credit card processors are actually the ones that prohibit such sales. This is because these products are considered high-risk. Even though the client does not sell tobacco, Shopify's financial partners viewed a Hookah as tobacco products. No problem, AdverGroup provided a solution that allowed this client to remain in the Shopify eCommerce Platform, which is the industry standard and best choice for any eCommerce website in todays world of web design solutions. Being a true Shopify expert, AdverGroup was still able to accomplish credit card processing for hookahs which allowed this client to sell using the Shopify eCommerce Platform. Review the Shopify Policy below that we were able to solve.
Below, see a snapshot of the Shopify Policy which restricts sales of products that are viewed as "high-risk".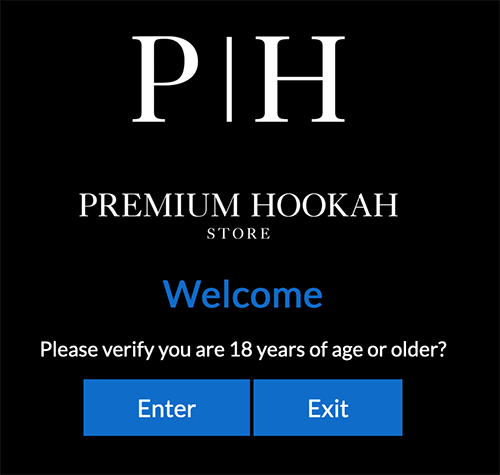 Tasks Accomplished in this Custom Shopify eCommerce Website Project for Local Des Plaines Hookah Store.
Credit Card Processing on Shopify for High-Risk Industry Finding a payment gateway and merchant account for Shopify that processes your online credit card payments is a major issue for website owners that use Shopify. We help merchants that sell alcohol, tobacco products, CBD and Hemp products on Shopify.
Age Verification App as required for online stores that sell alcohol, tobacco, vape or other age restricted products on your website, Age Check is an essential app that verifies the age of visitors when they arrive on your website.
Product Migration and/or Implementation: Migration of clients Hookah inventory into the Shopify eCommerce Software.
Search Engine Optimization (SEO): All products, policies and articles were written to possess intelligent page titles, article content and metadata for search engine optimization.
Content Creation: Website included creation of blog articles for sharing on Social Media and to assist with conquering search engine optimization (SEO). Articles were written to possess intelligent page titles, article content and metadata for search engine optimization.
Video Header for Shopify eCommerce Website Design in Des Plaines
Image Formatting and Optimization: AdverGroup photo touched and format images of products product provided by the client. All were color corrected, resized and formatted to include a Watermark.
Shopify eCommerce Training: Includes ongoing training relative to updating products, content and homepage.
Creation of client's Favicon.
Included configuration of Google Analytics and Google Webmaster Tools.
This project also included professional product photography and formatting of images for use on this new Tobacco Shopify eCommerce website:
Shopify eCommerce websites developed by AdverGroup will help your eCommerce business grow.
Beyond being a local Shopify expert near DesPlaines, IL we are also experts in Search Engine Optimization (SEO). We provide professional search engine optimized "eCommerce" websites that are built with the intention to conquer search engines. We are considered among the best Shopify website developers near DesPlaines and in the Chicago area because we offer complete packages that include training that helps our Shopify clients keep their eCommerce websites active and prominent on search engine result pages.
Contact AdverGroup today for assistance in achieving a professional Shopify eCommerce website design that can sell alcohol, tobacco products, CBD and Hemp products on Shopify.