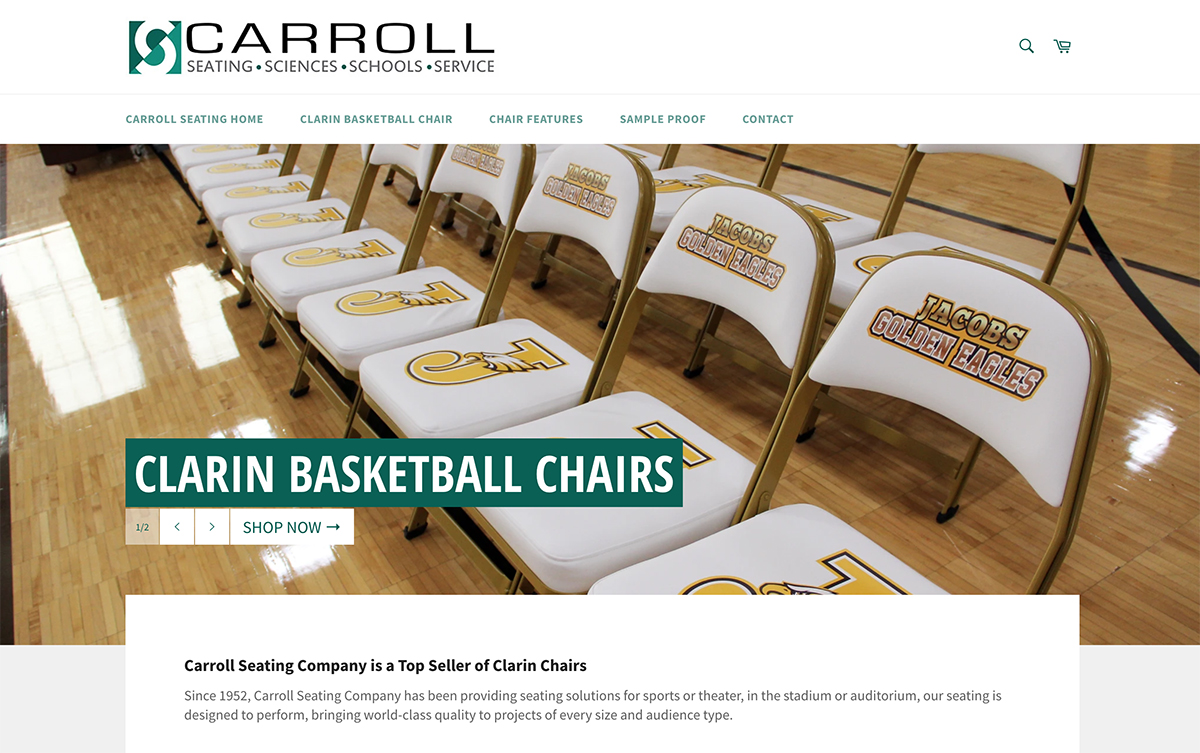 Website Design Client: Carol Seating Company
Location: Elk Grove Village, IL 60007
URL: www.CarrollSeatingShop.com
Carroll Seating Company has been in business since 1952. Their company specializes stadium and auditorium seating. Their website is a valuable tool for their company that serves schools and professional sports teams. Though their website was built to exhibit their services for large installations. They also have a product which they sell to a broader market. Therefore, they needed to add eCommerce to their current website, while still being able to push their marketing straight to various sales channels.
Upon search the web for the best local eCommerce web designer and/or company near Elk Grove Village, they discovered AdverGroup. The client reached us by phone and explained how they wished to achieve eCommerce abilities, and wanted to move ahead of their competition in Google Ads. Upon completion of our initial phone consultation a meeting was set to discuss a plan to move forward. The client was happy that AdverGroup would be able to get their products online. We could also elevate the users shopping experience by allowing them to select the various attributes for customizing their product and also upload their logo to also be applied to their custom product.
Within our initial conversations to develop their online store using the Shopify website platform, we made the client aware of our other marketing services which include professional video and commercial production. Our professionally produced video commercials help our clients explain and exhibit their services and product, while also providing great media for use in social media and marketing campaigns. The client agreed and added the video production option to their product.
Video Commercial Production Included:
Authoring of Voiceover Script and Voiceover Production for use in video commercial production.
Onsite Professional Video Capture of Clients Products in use.
Creation of Custom Graphics for use in video commercial production.
Creation of custom music to accompany professional voiceover and video content.
eCommerce Features & Function Abilities Delivered:
Color swatch Product Options and Variants for Custom eCommerce Products: This client produces custom chairs. These custom chairs offer various color options for frames and padding.
Product Quantity Restrictions: Product requires minimum purchase of 24 items. This custom requirement of the clients, resulted in the need for us to revise the Shopify code to force a minimum quantity in the "quantity selector. We also installed and configured an application that limits: Number of items for a specific product.
Custom Freight and Shipping Options based on Weight for Shopify eCommerce: The product requires
Animated GIF for Shopify eCommerce Product: Most eCommerce product pages simply show an image gallery to view various product images. We took it a step further and created an animated GIF that merged all the product images into a single rotating image.
Coupons and Discounts: Configured coupons and discounts in the Shopify eCommerce Platform.
Shopify eCommerce Training: Includes ongoing training relative to updating products, content and homepage.
Included configuration of Google Analytics and Google Webmaster Tools.
Additional Tasks Accomplished in this Custom Shopify eCommerce Website Project for Local Seating Company in Elk Grove Village
Google Ads and Facebook Advertising Campaign Management: Included set up and configuration of Google Ads account and Facebook Commerce Accounts, and ongoing management of sales channels and ad campaigns.
Updating of clients existing WordPress Website : The client had a lot of time and money invested in the SEO of their current website. They wanted a fast and easy way to achieve eCommerce. They wanted to create a shop page without all of the clutter of their existing website. This is why the decision was made to build the eCommerce section of the website in Shopify and simply link it to the existing WordPress website via navigation links and graphical links. It was also a goal to make both site appear identical in design, but more simple.
Search Engine Optimization (SEO): Not only did we correct all their non-existing or poor metadata in their WordPress website on their homepage and webpages, we also produced Search Optimized Blog Content and SEO Blog Configuration plus SEO Optimized Content Creation for the new Shopify eCommerce section.
Contact AdverGroup today for assistance in achieving a professional Shopify eCommerce website design near Elk Grove Village . Shopify eCommerce websites developed by AdverGroup will help your eCommerce business grow. Beyond being a local Shopify experts, we are also experts in Search Engine Optimization (SEO). We provide professional search engine optimized "eCommerce" websites that are built with the intention to conquer search engines. We like to consider ourselves among the best Shopify website developers in the Chicago. This is because we offer complete packages that include training that helps our Shopify clients keep their eCommerce websites active and prominent on search engine result pages.