AdverGroup Web Design specializes in Shopify eCommerce Web Site Development for clients in Chicago and throughout the USA. We have developed hundreds of websites using Shopify.
The Shopify eCommerce platform enables AdverGroup to quickly and easily build:
eCommerce Websites with Retail and Wholesale Pricing
Inventory control systems & data reporting tools
Restaurant, Cafe and Bakery Online Ordering Websites
Custom product catalogs
Integrated e-commerce systems
SEO Optimized eCommerce Websites
Reservation systems
Membership Websites with Recurring Fees
If you currently use Shopify, or looking to have a professional Shopify eCommerce website developed for your business, then AdverGroup is ready to assist you. We can deploy our knowledge and experience in Shopify website design and development to achieve your eCommerce objectives.
What are some real world examples of what the Shopify eCommerce Platform can do?
Millions of the world's most successful brands trust Shopify to sell, ship and process payments. Shopify is an all-in-one eCommerce Shopping Cart solutions. The Shopify system offers an attractive storefront to exhibit your products, full shopping cart and store management tools that allow you to manage your products inventory. Shopify has a robust app store that allows countless other function abilities which include: "Amazon-like" product filters, Mega-menus, Wholesale Pricing, Slideshow headers, Video Headers, Contact Forms, Minimum/Maximum Product Settings, Variant Options like sizes, color swatches and much much more!
Beyond endless extendability (by way of Shopify apps and custom coding), what truly sets Shopify apart from all the other eCommerce software is Shopify's "Marketing and SEO features". Where as, store owners can use Shopify to sell products on different online sales and social media channels. Sales channels represent the different platforms where you sell your products such as Facebook, Instagram and Google Merchant. By connecting each sales channel to Shopify, you can keep track of your products, orders, and customers in one place.
Who uses Shopify? Here are just a few examples of some recent web sites that AdverGroup has developed for clients using Shopify:
• Corporate Web sites or portals
• Local Brands, National Brands and Global Brands
• Online magazines, book clubs, newspapers, and publications
• E-commerce and online reservations
• Government online payment applications
• Small business web sites which sell products and services
• Non-profit and organizational web sites that take donations
• Community-based portals like school and church web sites
• Major manufacturers and fabricators that sell products online
• Professional Influencer Blogs and/or Personal blogs or family homepages
View some recent Shopify eCommerce Website Designs that we have developed for clients:
Shopify Web Design Client:
Bertucci® Field Watches
Bertucci® is the industry leader in titanium field watches, offering a wide array of case designs, finishes and styles. Bertucci® watches is a national brand sold in stores world. As a manufacturer and wholesaler, Bertucci® had never before sold their watches direct to the public. However, Bertucci® Watches thought to develop an online website where they could sell their high-end watches direct to the public. In doing so, they sought to work with a local web designer which was able to meet with them in their Gurnee office. After meeting with AdverGroup and learning of our focus on search engine optimization, Bertucci® decided to move forward with AdverGroup as their ecommerce website developer. Furthermore, they decided not only develop an online website, but also a promotional video which would assist them in engaging their audience.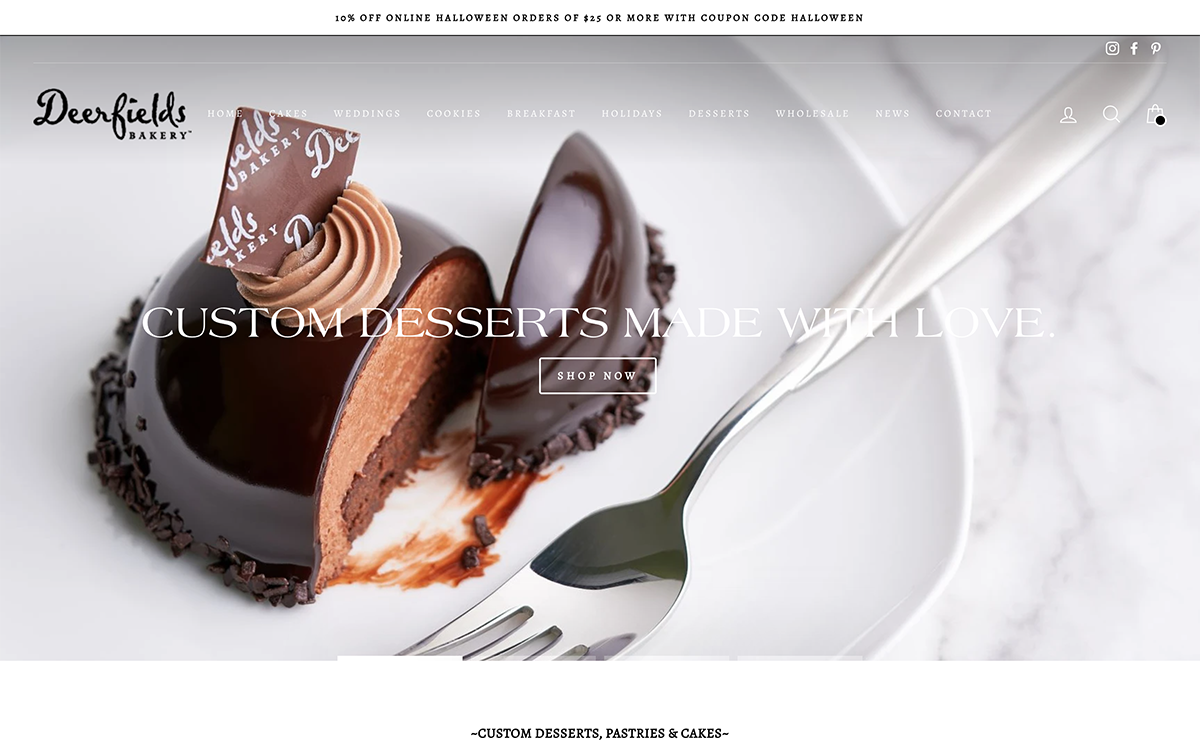 Shopify Web Design Client:
Deerfield's Bakery
This local bakery owner already had an eCommerce website that was built using the Joomla Platform and j2 eCommerce component which linked to their POS system. While the website operated "okay", this store owner wanted to boost their online sales and wanted an eCommerce website software that was easier to use. This client was already experimenting with Shopify before contacting us. However, after our initial consultation, this new client knew two things. 1) They were on the right path when considering Shopify for their new eCommerce solutions and 2) They knew AdverGroup was the best local website designer for the job.
Stuart Brent Books
AdverGroup Web Design was contacted by Amy Brent, who is the daughter of Stuart Brent. Stuart Brent had a well established and iconic Chicago bookstore which was first established in 1946 on Rush Street in Chicago. He moved his bookstore to Michigan Avenue in 1952, where it was eventually designated a landmark by The City of Chicago. Today, Stuart Brent's love for books and the tradition of the Stuart Brent Bookstore lives on through his daughter Amy, and the Stuart Brent Children's Book Club. While this client had a website already, the current website was a simple informative website that did not possess any function ability for members to subscribe to their bookclub service, which is now based in Winnetka, IL.
Professional Product Photography for your Shopify eCommerce Website
Our knowledge and experience relative to Shopify web development goes beyond understanding the platform itself. As Professional eCommerce web developers we also offer professional product photography which includes image capture, editing and formatting of your product images so that they maybe used on your Shopify eCommerce Shopping Cart website. Visit our product photography page to learn more about how AdverGroup can help you capture professional images of your food or products.
We also produce video commercials to help market your Shopify products. Visit our video production page to learn more.
AdverGroup and Shopify sounds like they are the right solution for me. How do I get started?
Whether you are local or far away. AdverGroup can help! As a local Shopify Web Designer our clients often find value in the fact that we can meet face to face to discuss the details regarding the creation of their new eCommerce website. However, you do not need a local Shopify web designer, that is if your web designer is AdverGroup. This is because our in-depth knowledge and experience creating Shopify websites and managing inventory will make your development process easy and trouble-free.
Contact us today to discuss how AdverGroup can assist you in the development of your new Shopify eCommerce store!
You can trust that there will be no surprises or learning curves for our web design team when creating your Shopify eCommerce website. Your project will be completed on time and will surpass all your hopes and aspirations in regards to design and function! AdverGroup Web Design has developed many Shopify web sites for clients in the Chicago area and through out the United States. Take advantage of our in depth knowledge and experience developing eCommerce websites with Shopify.