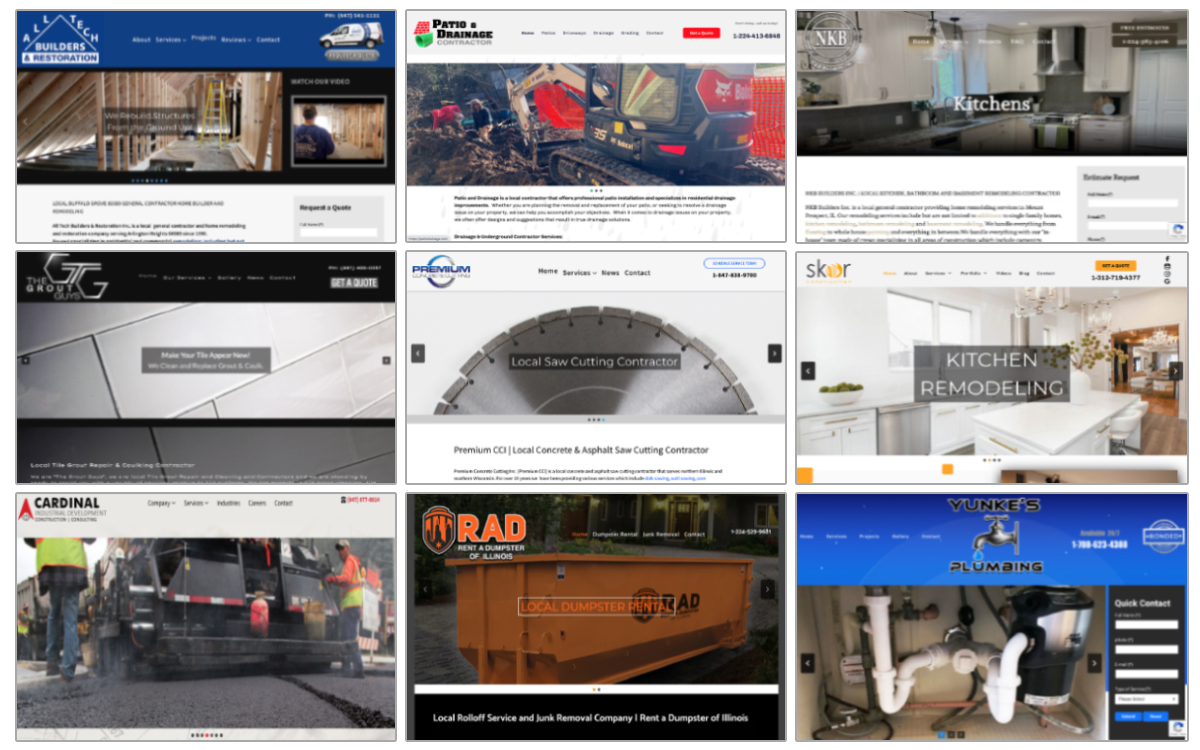 AdverGroup specializes in contractor web design and website development for construction companies across the USA. We have developed many contractor and construction related websites. Therefore, we understand what it takes to "hit the nail on the head".
We have developed contractor websites for contractors and construction companies of all types including but not limited to electricians, plumbers, roofers, flooring contractors, remodeling contractors, restoration contractors, painters, junk removal companies, saw cutting companies, grout repair companies, concrete companies, asphalt paving companies, landscapers and construction management companies.
No matter what type of construction company you have or represent, most contractor and construction company websites require the same components. First, your contractor website must possess a professional look that portrays a reputable image for your construction and or service based company. I always recommend taking a moment to review your competitors websites, and realize that yours must look better, and more legitimate. In addition to a good layout and design, your contractor website must be built considering Google Guidelines for search engine optimization (SEO). This is where many contractors fail when developing their website. Some contractors try to design their websites themselves and do not fully grasp all that is required and/or they lack the "know how" to actually implement those guidelines. Other contractors make the mistake of hiring someone who does not have the experience.
When selecting AdverGroup to design and develop your contractor website, you get a web designer who has been there and done that. Beyond web design, we understand the lingo of most all construction industries. This affords us the ability to title your pages and write your content in a way that satisfies both human web visitors and Google search robots. All while touching on the most frequent keywords and phrases that your potential customers are entering into search engines.
For contractors aiming to appear relevant to Google, it is also important to Google to keep your contractor website up-to-date and growing! This is why we select the correct platform (WordPress or Joomla) for your contractor website and train our clients staff how to make simple updates and how to create new pages and duplicate portfolio and landing pages.
Here are just a few examples of some recent web sites that AdverGroup has developed for clients using the WordPress and Joomla web development platforms.
All Tech Builders & Restoration
Location: Wheeling, IL 60090
All Tech Builders and Restoration has been in business since 1995. Therefore, they already had a website. However, they were not happy with their existing website not being found on search engines. Furthermore, their previous developer who was not responsive. They realized their business was suffering and it was time to make a change. The owner of All Tech Builders did not have to look far for a reference. His wife had recently had a website redeveloped by AdverGroup Web Design for her hair salon and was very happy with the service we provided.
After reviewing the AdverGroup web design portfolio, he saw that we have developed websites and video commercials for various other contractors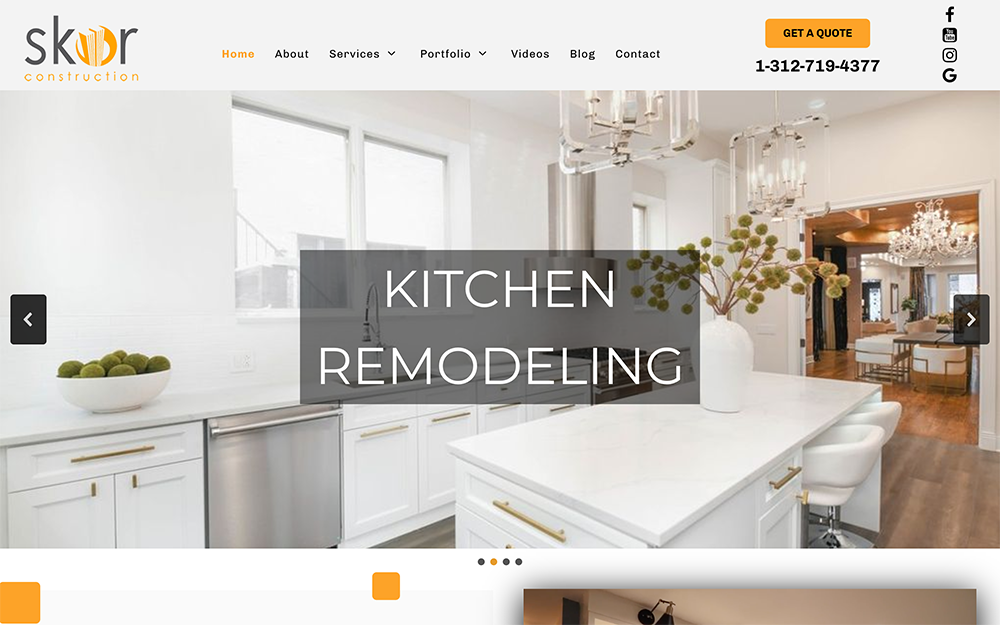 Contractor Website Design:
Skor Construction, IL
Location: Mount Prospect, IL
This contractor found AdverGroup while searching Google for a local website designer. Within our initial conversation this contractor explained their current website was not cutting it in conquering search engine results pages. Therefore, they sought to target a handful of local cities and villages for their remodeling construction business. We explained to this client that Google will not consider your website for search result pages unless you have "web articles" that are actually titled whatever the searcher entered into the search engine".
Contractor Website Design:

NKB Builders
Location: Mount Prospect, IL
This remodeling contractor found AdverGroup while searching Google for a local website designer. Within our initial conversation this contractor explained that their current website did not have the look and feel they desired. They felt that the Wix website site delivered by their former web designer (who was not local), did not match the image they were looking to portray. Furthermore, it was not cutting it in conquering search engine results pages. Therefore, they sought new local web designer to help them fix the design and to target a handful of local cities and villages for their remodeling construction business.
Contractor Website Design:
Yunke's Plumbing Contractor
Location: Algonquin, IL 60102
AdverGroup was contacted by the owner of this new plumbing company who needed a website that would help his business become visible on search engines. This new business owner knew that he needed a professional contractor website that could compete with other local established contractors in his area. Being a new contracting company, he also needed a logo designed, along with business cards and printed receipt pads to match his new website. After meeting in person with AdverGroup, this new business owner felt confident that we were the best option among the various local website designers had had considered to assist him with developing his new contractor website.
Below are some of the components and items we include to ensure successful contractor website design.
➝ Provide image galleries of work to demonstrate your quality of work.
➝ Include a sitemap for front end users and submit an XML version to Google for Indexing.
➝ Quick Quote Contact form.
➝ Google Analytics.
➝ Google Webmaster Tools
➝ Receipt Pads, Letterheads, Envelopes, Brochures, Etc to match website.
➝ Business Cards to match website.
*** We also include professional video commercial production for contractors and construction companies. Samples of these videos are provided upon each portfolio page and/or are provided below.
AdverGroup sounds like it is the right solution for designing and developing my contractor website. How do I get started? As a web designer and developer specializing in contractor, construction related and service based clients, our experience often requires minimal input from our clients. Upon a brief phone conversation, we can learn more about your company needs and prepare a proposal/agreement which outlines deliverables, terms, conditions and compensation for your review.
You can trust that there will be no surprises or learning curves for our web design team when creating your contractor or construction company web design. Your project will be completed on time and will surpass all your hopes and aspirations in regards to design and function! AdverGroup has developed numerous contractor web sites for clients in the Chicago area and through out the United States.
Do you need a local contractor web designer? Not if your web designer is AdverGroup. As we provide contractor web design services to clients across the United States.
Take advantage of our in depth knowledge and experience with Contractor website design services. Contact us today to discuss how AdverGroup can assist you in the design and development of your new contractor, construction company, or service based company website!