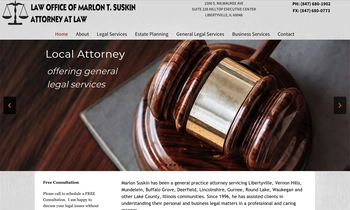 Web Design Client: Attorney Suskin
Location: Libertyville, IL 60048
Website URL: https://attorneysuskin.net/
This local Libertyville 60048 attorney was seeking assistance with a new website design for his law firm. AdverGroup's Creative Director John Guccione has become friendly with Attorney Marlon Suskin over the years, due to our children having played Buffalo Grove baseball together for many years. Additionally, Attorney Marlon Suskin has been known to play 2nd base on the AdverGroup Web Design softball team. So when it was time to redevelop his pre-existing attorney website, Attorney Suskin knew who to call. He called John at AdverGroup to helped him redevelop his law firm website into a mobile friendly design built in a content management system that this local attorney could update himself.
Professional Law Firm Website Design & SEO Function Ability
New website design for local law firm using Joomla Content Management System

Website Hosting

Search Engine Optimized Landing Pages

Sitemap and Metadata Coding Per Google Guidelines

Professional Photography

Animated Home Page Slider

Graphic Design and Logo Re-Creation

SSL Signed Security Certificate

Internet and Social Media Consulting
AdverGroup is a local website developer who specializes in search engine optimization, attorney and law firm website design. AdverGroup is located in Arlington Heights, IL, and is available to provide website development services for clients in Libertyville, IL 60048. Our close proximity to Libertyville and our ability to meet with local clients made the decision easy for this Lake County attorney when he was seeking the best local web designer in or near Libertyville, IL.

Contact AdverGroup Web Design today for assistance in developing your custom website design!