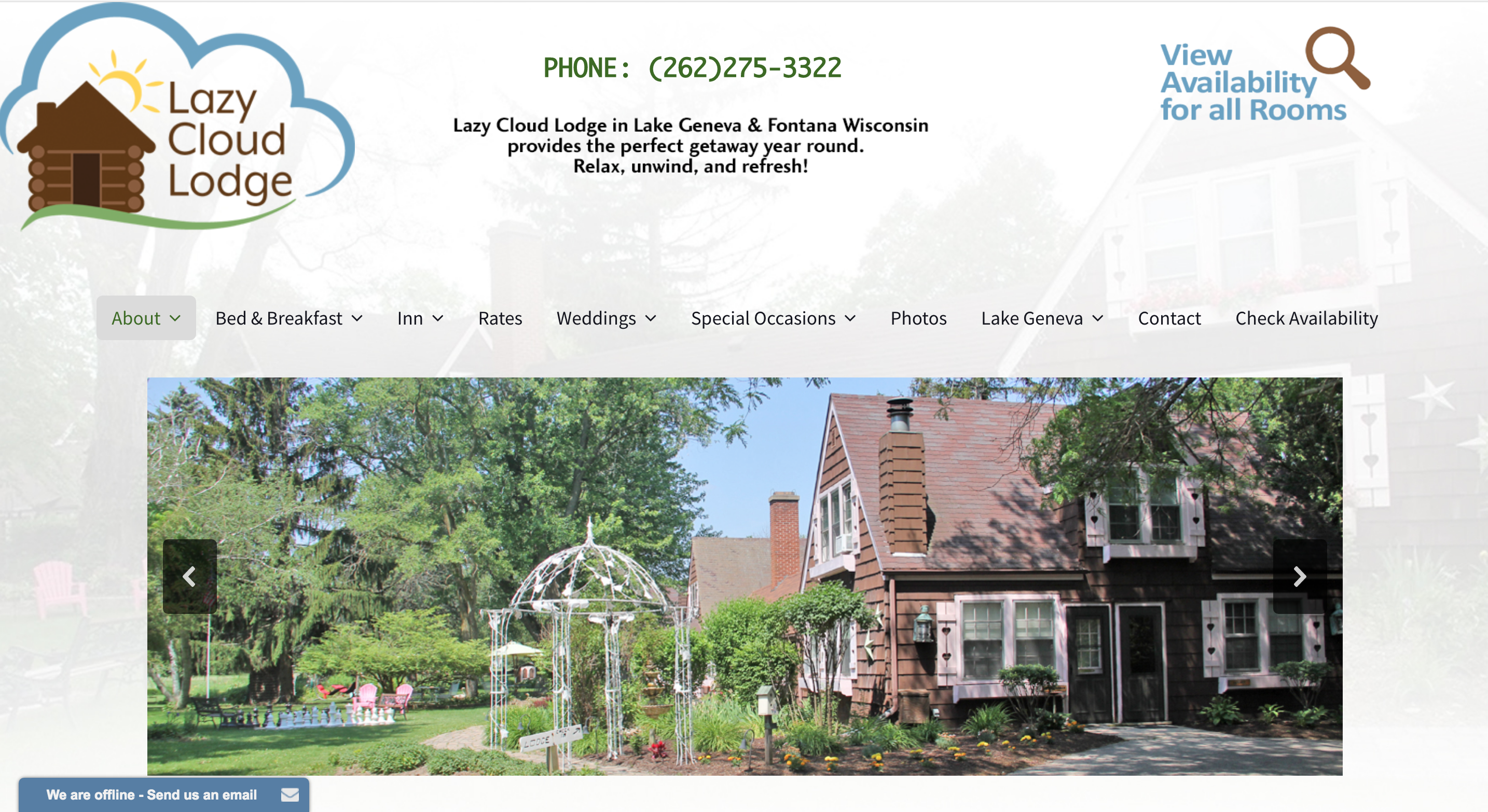 Web Design Client: Lazy Cloud Bed & Breakfast
Location: Lake Geneva, WI 53147
Website URL: https://lazycloud.com

AdverGroup LLC was contacted by the owner of Lazy Cloud Bed & Breakfast who needed a new website for their Bed and Breakfast that would possess hotel reservation function ability. LazyCloud Bed and Breakfast has 2 locations, one location in Lake Geneva and one location in Fontana, WI. They were seeking a local web designer to assist them in developing this new hotel website that would allow customers to reserve their suites from their own website as well as linking to all the major travel sites like Expedia, Hotels.com and more.
All objectives of this B&B website development project were met! As we created an attractive custom hotel reservation website using the Joomla! content management system and implemented all the websites metadata, ensuring page titles, descriptions and page content were in harmony and coded properly per Google search webmaster guidelines.
Beyond all of the awesome features this website includes, AdverGroup also provided onsite training for the LazyCloud staff on how to operate the administrator section of the hotel website which was developed using access control features allowing various access levels for managers and/or inn-keepers.
Website Design Scope and Website Features: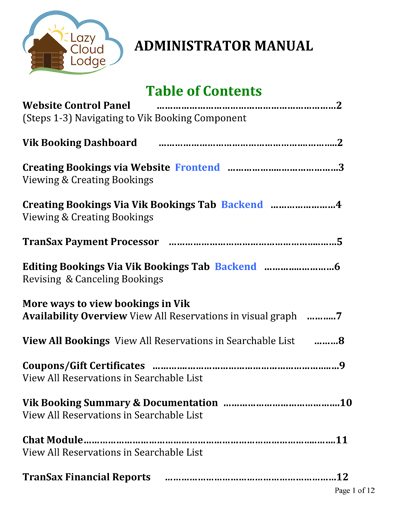 Custom Web Design for Joomla Content Management System (CMS)
Location photography for animated home page image slider
Hotel Reservation Booking Engine for the Joomla CMS
Online eCommerce Hotel Reservations / Bed & Breakfast Bookings via Availability Calendars

Property Management System (PMS) functions

Migration of clients pre-existing hotel rese

rvations from old website into the new website

Hotel Channel Manager for Joomla Web Design

Live Webchat
Additional web and search engine optimization features:
Content copy rewrite for conquering search engines related to bed and breakfast / hotel and travel website.

Search Engine Optimized (SEO) for success!


Sitemap as required by Google.

Secure Website Hosting and website security included in this project.

Configuration and use of Google Analytics &

Google Webmaster Tools

Website linking to various social media accounts including Facebook, Twitter, GooglePlus and LinkedIn.

Custom Manual for client's staff and Innkeepers
Custom Video Tutorials for client's staff on how to operate the Hotel Management Component
AdverGroup is a local web designer based in Arlington Heights, IL. Our ability to operate quickly and deliver a websites that possess advanced function ability such as hotel reservations and bed & breakfast bookings, made the decision easy for this client when they were selecting among the best local web designers. Though AdverGroup Web Design is located in Arlington Heights, one of our local web designers traveled to this clients location in Lake Geneva and Fontana Wisconsin on multiple occasions. Our "whatever it takes approach" to satisfying our client's needs has fostered an ongoing website maintenance and hosting of this clients hotel management and bed & breakfast website.
Contact AdverGroup Web Design today for assistance in developing your custom website design!