AdverGroup Web Design and Creative Media Solutions is a local website design and development company serving clients in Chicago and it's surrounding suburbs. We develop stunning web designs that conquer search engines.
Furthermore, we specialize in various other creative media solutions that will assist you in your advertising and marketing needs: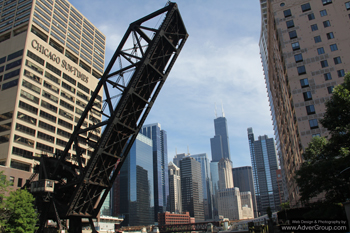 If you are a local business looking to conquer search engines, then you can count on us to assist you in achieving and/or enjoying seeing your companies website on page one of Google, Yahoo or Bing's search result pages. We achieve this by knowing how to tweak your WordPress or Joomla core system for maximum search engine optimization (SEO). Furthermore, our SEO experience affords us with the experience in understanding how your site's content and metadata should be written in order to conquer search engines.
As Chicago's best Shopify, WordPress and Joomla web design company, we have experience developing all kinds of websites. If it eCommerce web design that you require assistance with then we can help you with WordPress's WooCommerce of Joomla's Virtuemart Extension.
Our personable approach to web development ensures our clients satisfaction. We work closely with our clients assisting them in understanding the nuts and bolts of what it takes to develop and manage a successful website. Additionally we offer a long list of additional services that complement our web design services, such as Product & Location Photography. Our Web Designers utilize "your own" professionally captured images, and take pride in developing customized websites ensuring that your Chicago business and/or products, are accurately portrayed on your company website.
We have built countless websites for clients in the Chicago area. We build websites using today's popular content management systems; WordPress & Joomla! These tools allow clients to update their websites easily without incurring additional fees.
Do you need a local web designer or a web designer based in Chicago? The real answer in no! As we ourselves, provide web services to clients across the United States. However as an Arlington Heights based Web Design Company, our close to proximity to Chicago afford us the opportunity to provide our Chicago Web Design clients with a face to face service, that certainly stacks the chips in favor of developing a successful website.
We have the ability to develop complex and in depth websites, as well as simple and quick websites! We provide various web design packages that will suit any budget restraints. The best part is, we develop custom proposals and websites in a modular or Ala' Carte Fashion. This allows clients to execute only the website functions that they desire or require!
We look forward to speaking with you about how "AdverGroup Web Design" can assist your Chicago, IL business in the development and success of your website.
Click here to view websites that we have designed for clients local to the Chicago Area!
Interesting facts about the City of Chicago (Source: Wikipedia)
Population: 2,695,598 per 2010 census
Settled: 1770's
Area: 234 Square Miles
Postal Code: 60656, 60694, 60690, 60695, 60696
During the mid-18th century, the area was inhabited by a Native American tribe known as the Potawatomi, who had taken the place of the Miami and Sauk and Fox peoples. The 1780s saw the arrival of the first known non-indigenous permanent settler in Chicago, Jean Baptiste Point du Sable, who is believed to be of Haitian and French descent. In 1795, following the Northwest Indian War, an area that was to be part of Chicago was turned over by some Native Americans in the Treaty of Greenville to the United States for a military post.
Did you know that the name "Chicago" is derived from a French rendering of the Native American word shikaakwa, translated as "wild onion" or "wild garlic," from the Miami-Illinois language.