Displaying items by tag: chicago
Monday, 19 September 2022 12:27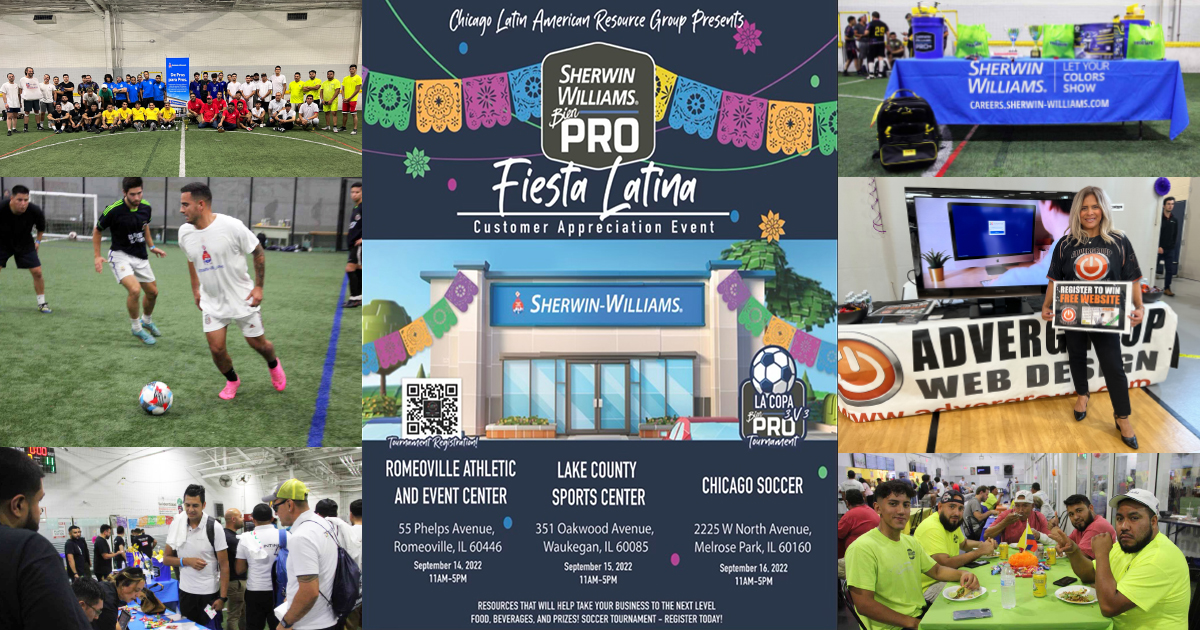 On September 14th through September 16, 2022, in coordination with National Hispanic Heritage Month, Sherwin Williams' "Chicago Latin American Resource Group" held their 1st annual "Fiesta Latina". This Sherwin Williams customer appreciation event provided resources for painting contractors of latin decent, fun, food, beverages, raffle prizes and 3 soccer tournaments. This event took place over three days at three different locations: Romeoville, Waukegan and Melrose Park.
AdverGroup Web Design was proud to serve as the event's exclusive website design company. Our purpose at the event was to offer information and advice relative to website development and search engine optimization (SEO) for painting contractors in the Chicago area. AdverGroup provided "3 FREE CONTRACTOR WEBSITES" which were raffled off on each of the 3 days of this awesome event. We look forward to assisting these 3 winners in "turning their business!" Other vendors provided demonstrations on commercial painting equipment, while other vendors offered solutions relative to accounting, insurance, loans for business and mortgages for real estate.
Please take a moment to view the video produced by, and gallery of images captured by AdverGroup Web Design.
Wednesday, 27 July 2022 14:41
Alphabet Inc. announces their intent on "Bringing Google to Chicago's Thompson Center." The company announcement posted on July 27, 2022 under Google's Company News section, conveyed the company's plan to purchase the Thompson Center and "support (their) engineering work in Chicago," in effort to "advance the growth of Google's partners and customers across the Midwest and nationally".
While Google, and their parent company "Alphabet Inc." (both mostly known for their Search Engine Console) are both headquartered in the same Mountain View, California corporate complex, known as the "Googleplex." The Googleplex has been reported to possesses roughly 2 million square feet of office space, the Thompson Center is not far behind with approximately 1.5 million square feet, spread across 17 floors of office and retail space.