Displaying items by tag: Industry News
Monday, 15 October 2012 17:47
As reported on the Joomla Website, Lenoardo Di Caprio uses Joomla on his new site LeonardoDiCaprio.com.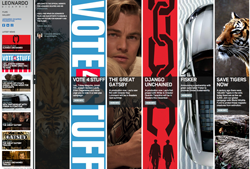 Leonardo Di Caprio is one of the most famous actors in the world. Leonardo has shown the ability to choose great roles, starring in movies from Inception and Gangs of New York to Titanic and Catch Me if You Can. It seems he can also choose great software. His new site LeonardoDiCaprio.com runs Joomla. This is a particularly interesting site in its design and its navigation.
Who else uses Joomla? Leo joins the ranks of numerous other big names that use Joomla. Other big names that use the Joomla platform include Major Television Networks, Retailers, Car Manufacturers and even Government Agencies. Names such as McDonalds, Jaguar, Pizza Hut, MTV, Sony Pictures, Mexico City and even the United Kingdoms Ministry of Defense.