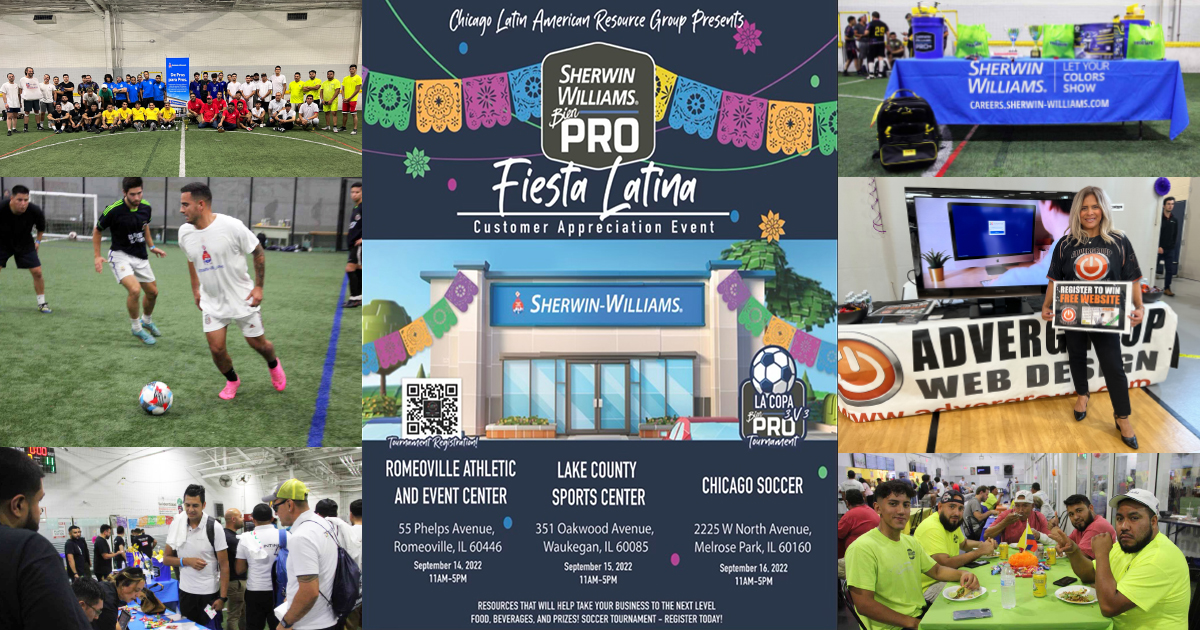 On September 14th through September 16, 2022, in coordination with National Hispanic Heritage Month, Sherwin Williams' "Chicago Latin American Resource Group" held their 1st annual "Fiesta Latina". This Sherwin Williams customer appreciation event provided resources for painting contractors of latin decent, fun, food, beverages, raffle prizes and 3 soccer tournaments. This event took place over three days at three different locations: Romeoville, Waukegan and Melrose Park.
AdverGroup Web Design was proud to serve as the event's exclusive website design company. Our purpose at the event was to offer information and advice relative to website development and search engine optimization (SEO) for painting contractors in the Chicago area. AdverGroup provided "3 FREE CONTRACTOR WEBSITES" which were raffled off on each of the 3 days of this awesome event. We look forward to assisting these 3 winners in "turning their business!" Other vendors provided demonstrations on commercial painting equipment, while other vendors offered solutions relative to accounting, insurance, loans for business and mortgages for real estate.
Please take a moment to view the video that we produced for Sherwin Williams, and below the video you can view the gallery of images captured by AdverGroup Web Design for Sherwin Williams.
Note that photos can be downloaded individually, or in total by clicking here: Download All Images
If you are a painting contractor in the Chicago area who needs a professional website, please do not hesitate to contact us. We can help you produce a professional contractor website, and assist you in developing an effective search engine optimization strategy that will help you conquer search engines.